Our History & Company
Preferred Sonoma Caterers was founded by Chef Amber Balshaw in 1991 to provide innovative catering services to Sonoma County. Rather than providing clients with static menus, Amber prefers that each event have its own menu written specially for each client; as each event is different so should be its menu. Menus are drawn from Amber's varied experiences in the United States and Europe, and from her considerable imagination.

Amber began her career in the culinary arts in Sonoma County as an assistant pastry chef, where she quickly became known in the trade. Shortly thereafter she became apprenticed in Innsbruck, Austria, where she lived and trained for some time, adding Austria's well known and admired pastry techniques to her own.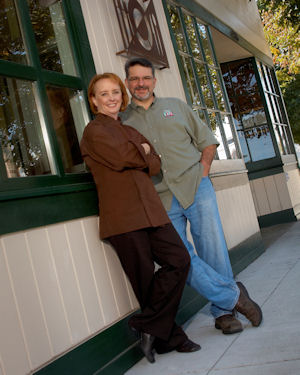 Upon returning to the United States she entered the Culinary Institute of America (CIA) located in Hyde Park, New York; our country's foremost culinary school.

While still in school she had the honor to work at West Point Military Academy, where she cooked for then Vice-President George Bush.

Upon completing her training in all aspects of the culinary arts and sciences, she graduated first in her class with highest honors, and was promptly offered the position of Pastry Chef at the Ojai Valley Inn and Country Club in Santa Barbara.

At the Ojai Valley Inn and Country Club, which is known for its attraction of the Hollywood elite, she had the pleasure to bake for a multitude of stars, three former U.S. presidents and many other dignitaries. She is best known at Ojai for her Christmas Gingerbread Village, with its three-foot tall centerpiece.

Upon returning to her native Sonoma County she founded PSC with her husband Jim. They have enjoyed much success in their venture, providing classic and up-to-the-minute creations, and a variety of farm fresh organic produce that marks our creations. They strive to use the freshest local Sonoma County products whenever possible.

They believe in being a good and active member of the community, using other local businesses, member of both the Chamber and the Downtown Association, frequent supporter of numerous local charities and non-profit organizations, and seriously pursuing recycling and energy conservation programs.

Among some of the more unusual events they have catered a 3 day long Millennium party for 300 guests. Provided catering on location for the movie Phenomenon and John Travolta. Catered for Emeril Lagasse during his San Francisco special. Their every day events range from elegant weddings for 100, corporate blow outs for 1500, and casual catering for fewer than 20.

PSC strives to be an active member of the community and friend to the environment. With a long history of environmental practices, they were proud to be Certified as a Green Company in 2009. Active in supporting the community through donation and participation in fund raisers, and founder of Petaluma's Art & Garden Festival. For more information see PSC's community and environmental practices page.

Preferred Sonoma Caterers is located in "The Retro Warehouse District" in mid-town Petaluma at 416 East D Street. Having moved to the current facility in 2009, completing a remodel of this circa 1911 building and receiving a Heritage Homes award (Building History). The kitchen is open to public view for those interested in seeing the bustle of a busy catering company. The showroom has photos from many of PSC's events and samples of many serving and display pieces.